Piusi Battery Kit 3000 12V/24V
Inside the box:
– Piusi Carry 3000 12V or 24V Diesel Pump
– Piusi 3/4″ X 4mtr Flex Fuel Hose
– Piusi Self 2000 Manual Nozzle
– Bottom suction filter
– Hose connections
– 2 meter cables with clips for battery connection
Compare
Add to wishlist
Description
Description:
– Made in Italy.
– Battery Kit is a portable diesel transfer kit. The diesel dispenser is equipped with a self-priming electric vane pump with a 12 or 24 V DC motor.
– Battery Kit is suitable for all those conditions in which the user has to transfer and dispense diesel in safe conditions, when, for example, only a battery power supply is available. The Battery Kit diesel dispenser has been designed to ensure a reliable and safe diesel transfer and dispensing in situations where the operation of refueling earth-moving machinery is complex.
Warranty: 6 months against manufacturer's defects only. Abuse, electrical or mechanical wearing parts are not covered.
Features:
– Self-priming electric vane pump run by a 12V or 24 V DC electric motor. Suction capacity up to 2 metres.
– Cast iron body.
– Fixed brush motor with permanent magnet stator.
– Terminal board with switches and fuses to protect against overload. 2 metre cables with clips for battery connection.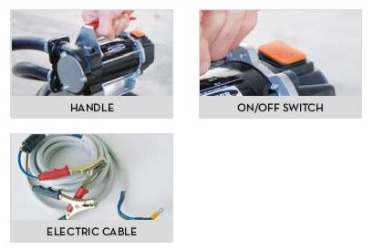 Specifications:
(1) For Kit 12V (P/N: F0022500C)
– Power: 220W
– Voltage: DC 12V
– Current: 22A
– Flow rate: 50 lit/min (13 GPM)
(2) For Kit 24V (P/N: F0022600C)
– Power: 310W
– Voltage: DC 24V
– Current: 13A
– Flow rate: 50 lit/min (13 GPM)