HCP A-05B (1/2HP) Submersible Pump
Specifications:
– Power: 0.5HP
– Voltage: 230V / 50Hz
– Head (max~min): 11~ 4 meter
– Capacity (min~max): 40 ~ 200 lit/min
– Discharge: 2″ (50mm)
Compare
Add to wishlist
Description
Description:
– Made in Taiwan
– HCP A-05B submersible pump is widely used for wastewater, sump drainage, flood control and dewatering for fish pond or basement/cellars.
–  Lightweight, portable, manual type.

Features:
– A precision manufacture assembling lines, complimented with a synthetic production test to ensure each IP68 motor with highest level of final pump quality.
– Standard accessories include : cable with an epoxy resin sealed water-resistant cable base, Auto-cut motor protector, double mechanical seals and lip seal design.
– Oil Elevation Disk design in the oil chamber to ensure the mechanical seals lubrication and to extend the service life of pump.
– A-05B is a practical pump, with a low temperature, oil filled motor and double mechanical
seal design (CA/CE).




Specifications:
– Power: 0.5HP
– Voltage: 230V / 50Hz
– Head (max~min): 11~ 4 meter
– Capacity (min~max): 40 ~ 200 lit/min
– Discharge: 2″ (50mm)

Performance Curve: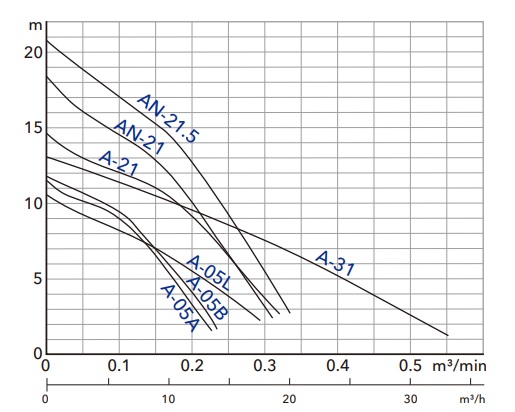 Performance specifications: